The Model M is a slim speaker (18 cm depth, 50 cm height) specially designed for the "Surround" channels of a Home Cinema system. It can be wall-mounted (mounting system included) or recessed. We recommend it for dedicated rooms from 25 to 100 m2. It is available in a unique finish (black with a dark gray front) to easily blend into dark rooms.
Technical specifications:
The speaker consists of a 21 cm diameter woofer-midrange driver and a dome tweeter with a horn flare. Its port is naturally located on the front.
Considering its role as an effects speaker, the Model M has been designed to be particularly dynamic. The woofer utilizes a cellulose pulp membrane (very lightweight for its diameter), mounted on a small pleat suspension to become highly responsive. It achieves a sensitivity close to 95 dB. It is accompanied by a dome tweeter made of PEEK (a plastic reinforced with carbon particles), which is also very rigid, ensuring high frequencies up to the upper limit of audible frequencies.
The tweeter used is the same as the one in the DHAVANI MK2 and STENTAURE floorstanding speakers, as well as the same as the one in the STENTAURE C MK2 center speaker. This means that the Model M is the perfect companion for a Home Cinema installation alongside these products.
Positioning and Adjustment
The MODEL M should be positioned, fixed to the wall, at 3/4 of the ceiling height (1.8m for a 2.4m ceiling). The speaker should not be aimed towards the listening area, but rather perpendicular to the wall. In summary, the sound from the speaker should "pass over" the listener when they are seated on their couch.
In a 5.1 Home Cinema system, you have the option to mount the speakers either on the side walls (left and right) or on the rear wall. In the latter case, position the speakers beyond the main listening area. Avoid placing the surround speakers too close to the room corners (a distance of at least 70cm is recommended).
In a 7.1 system, we recommend using 4 speakers: 2 on the rear wall and 2 on the side walls.
Important: The MODEL M is designed to be configured in SMALL mode on your AUDIO/VIDEO amplifier. In other words, we strongly advise setting the low-frequency cutoff of the speaker to 80 Hz. It is with this setting that it will operate optimally and ensure its power handling capability.
The speaker terminal accepts spade connectors and banana plugs, but we recommend a direct connection with the stripped cable secured by the screw terminal.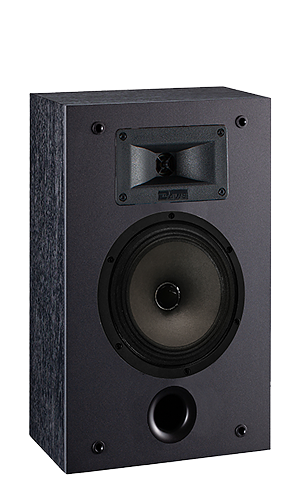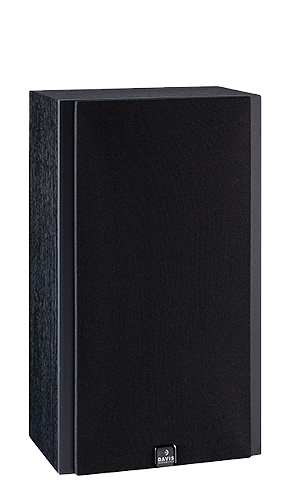 Bass reflex: Circular port
Nominal power: 100 W
Maximum power: 150 W
Number of channels: 2
Number of speakers: 2
Sensitivity: 95 dB
Frequency response (+/- 3 dB): 50 – 20000 Hz
Tweeter: Compression
Midrange: –
Woofer: 21 cm cellulose pulp
Dimensions (cm): 50 (h) x 29 (w) x 18 (depth)
Weight (kg): 12 (per carton)
Impedance: Minimum 4.5 ohms
Crossover frequency: 400-4000 Hz